New Report Outlines Strategies to Better Support First-Year Teachers
September 9, 2021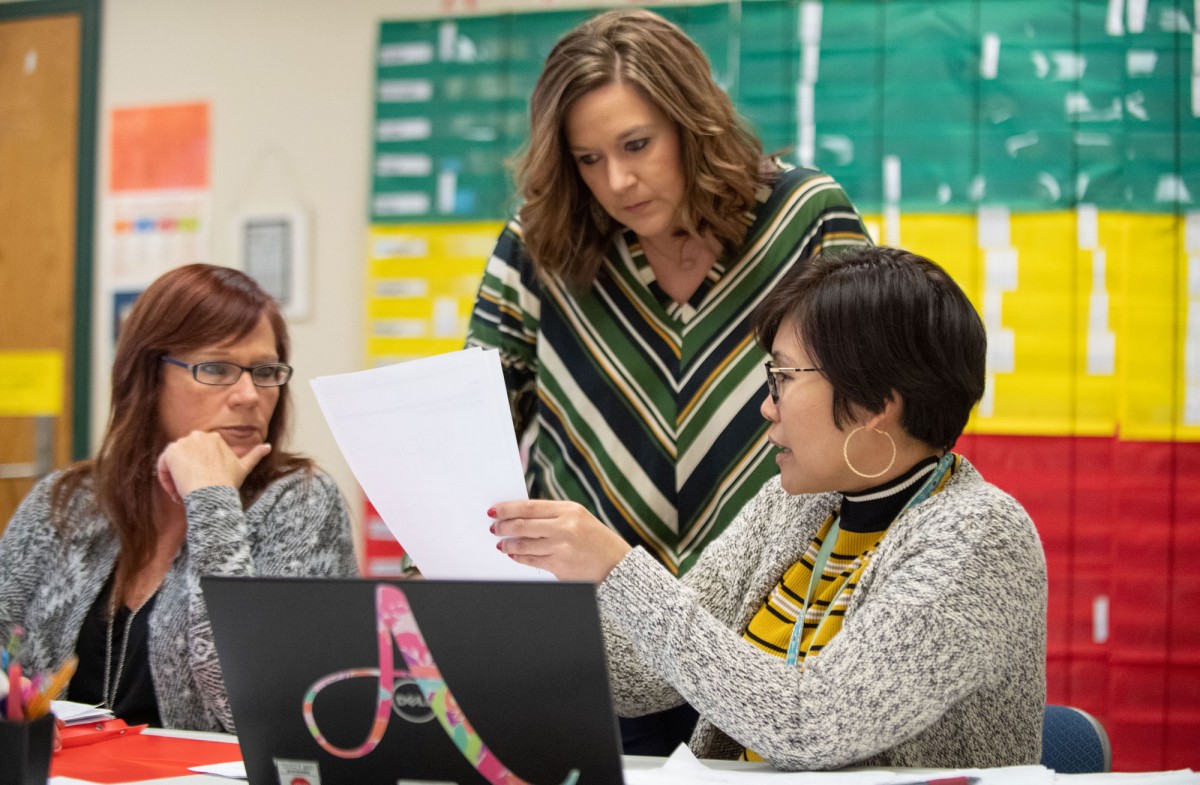 'Why New Teacher Mentoring Falls Short, and How to Fix It' Offers Actions to Improve Instruction, Student Achievement, and Teacher Retention
The National Institute for Excellence in Teaching (NIET) released a report today that provides strategies for states and school districts to strengthen mentoring programs for new teachers. Teacher mentorship programs, where new teachers are paired with veterans, are a research-based practice, but they often lack clarity and can turn into more of a "buddy system" than a true learning opportunity. In the new report, NIET shares research and experience that point to greater success when mentorship programs center on instructional improvement and provide deeper support for mentors.
NIET draws on findings from partner districts in Louisiana and Texas, where state leaders have established mentorship initiatives to better support new teachers that include both training and funding for mentors. NIET offers mentor training and support as an approved provider in both states.
"We know from research and experience that high-quality mentoring programs lead to better performance in the classroom, increased student achievement, and higher teacher retention. The challenge is that not enough schools and districts are implementing comprehensive approaches to get the results all teachers and students deserve," said NIET Co-President and Chief Operating Officer Dr. Josh Barnett. "Great teaching starts with meaningful investments in training and support. Commitments like those in Louisiana and Texas not only help develop the foundational elements to make new teachers successful, but also build systems of continuous improvement for the whole school to thrive."
"The first year of teaching is always challenging, but new teachers this fall face even greater obstacles after finishing their training during a pandemic and now navigating learning recovery. This heightens the need to better support first-year educators, especially those serving students who most need a great teacher," said NIET Co-President Laura Encalade. "It is critical now more than ever to ensure new teachers are well-supported, confident, and prepared to meet the academic and social-emotional needs of their students. Successful state and district approaches can establish programs where new teachers receive feedback and support to grow in their instructional practice, even from their very first weeks, and experienced educators are given the time and training to serve as mentors."
While new teacher surveys rank mentoring as the most helpful type of support to increase teacher retention and effectiveness, mentoring for new teachers often falls short due to a lack of necessary investment in time, resources, and training. A few states like Louisiana and Texas recognize the vital role mentors can play through state policies and funding targeted for mentoring. In today's paper, Why New Teacher Mentoring Falls Short, and How to Fix It, NIET distills specific strategies and actions that could be replicated in any school or district to strengthen mentoring for new teachers, particularly if state leaders establish policies and funding to support this work:
Focus mentoring on instructional improvement. Successful programs must have a clear purpose and vision around improving teaching and learning; intentional investments in built-in time, training, and the use of an evidence-based instructional rubric; defined roles, responsibilities, and compensation for mentors; and the selection of the right people for the job. States and districts can help to ensure that mentor teachers are focused on instructional coaching and set clear expectations for their mentorship programs.


Support mentors to be more effective by providing training, tools, and protocols for the role. Instilling good habits and norms at the outset will benefit new teachers long term and strengthen school culture overall. This can be done by establishing trust and a growth mindset; grounding mentoring in student outcomes and the needs of the mentee; using a cycle of coaching for continuous improvement; and creating opportunities for mentors to collaborate.


Align the mentoring program with district and school systems and goals. Mentoring should not be a "one-off" program disconnected from school, district, and state initiatives, nor should mentors be disengaged from the school leadership team. Mentors and new teachers are the school's future leaders. Districts should support principals to integrate mentors into the school leadership team structure and ensure that the mentoring program is in line with district and school priorities or initiatives.
Today's release includes a panel discussion at 11 a.m. CT that will feature leaders and educators from across the country about how to better support new teachers through mentorship programs. To read Why New Teacher Mentoring Falls Short, and How to Fix It as well as additional commentary on how to improve mentoring programs for new teachers, please click here.

About NIET
NIET's mentor training is based on over 20 years of experience training teacher leaders and principals to coach classroom teachers. Teacher leaders taking on these mentoring and coaching roles in NIET partner districts report they are more likely to remain in teaching, with nearly 90% agreeing that the opportunity for a leadership role increased their commitment to remain in teaching. Teacher retention in NIET schools where trained teacher leaders are providing classroom teachers with coaching and mentoring is 10 percentage points higher than the average teacher retention rate nationwide. NIET's work has served more than 9,000 schools and has impacted more than 275,000 teachers and 2.75 million students. Learn more at www.niet.org.