Why New Teacher Mentoring Falls Short, and How to Fix It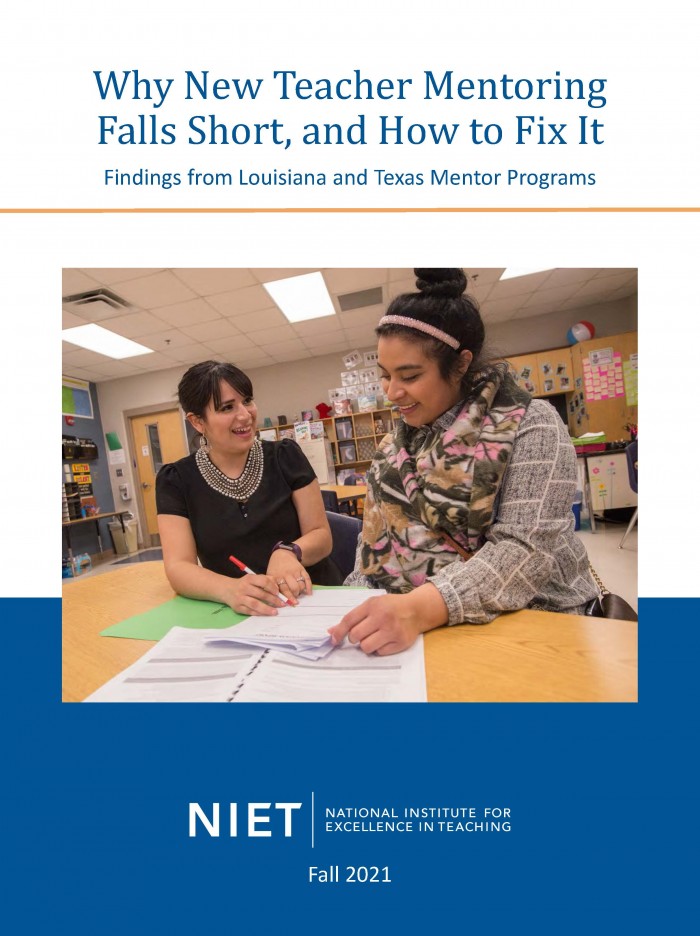 Findings from Louisiana and Texas Mentor Programs
Teacher mentorship programs, where new teachers are paired with veterans, are a research-based practice, but they often lack clarity and can turn into more of a "buddy system" than a true learning opportunity. In this new report, Why New Teacher Mentoring Falls Short, and How to Fix It, NIET shares research and experience that point to greater success when mentorship programs center on instructional improvement and provide deeper support for mentors.
The report offers concrete strategies to improve mentoring for new teachers, drawn from NIET partnerships in Louisiana and Texas. Both states have recognized the vital role mentors can play through policies and funding targeted for mentoring. The key action steps are:
Focus mentoring on instructional improvement. Successful programs must have a clear purpose and vision around improving teaching and learning; intentional investments in built-in time, training, and the use of an evidence-based instructional rubric; defined roles, responsibilities, and compensation for mentors; and the selection of the right people for the job.


Support mentors to be more effective by providing training, tools, and protocols for the role. Instilling good habits and norms at the outset will benefit new teachers long term and strengthen school culture overall. This can be done by establishing trust and a growth mindset; grounding mentoring in student outcomes and the needs of the mentee; using a cycle of coaching for continuous improvement; and creating opportunities for mentors to collaborate.


Align the mentoring program with district and school systems and goals. Mentoring should not be a "one-off" program disconnected from school, district, and state initiatives, nor should mentors be disengaged from the school leadership team. Districts should support principals to integrate them into the school leadership team structure and ensure that the mentoring program is in line with district and school priorities or initiatives.
Download our free resource: Reflective Questions to Analyze and Strengthen Support for New Teachers
Texas educators: Download reflective questions to analyze and strengthen support for new teachers
Louisiana educators: Download reflective questions to analyze and strengthen support for new teachers
Read the blog from NIET Co-President Laura Encalade: "Every School Wants to Support New Teachers. Here Is How to Do It Better, Right Now."
Read the blog from Dr. Thomas Smith, professor at the University of California, Riverside: "What Kinds of Support Do New Teachers Need and What Are Some of the Challenges in Providing High-Quality Mentoring?"
Read the blog from Alice ISD educator and mentor, Mari Hinojosa-Barrera: "Putting Instructional Improvement at the Heart of New Teacher Mentoring"
Read the blog from Jefferson Parish leader, Shawn Hayes: "Why My District Invests in Mentoring"
Read the blog from Hearne ISD leader, Dr. Delic Loyde: "How Mentors Strengthen Our Learning System: Reflections from Hearne ISD, Texas"
Read the press release: New Report Outlines Strategies to Better Support First-Year Teachers
Watch the recording of the panel discussion: "Maximizing the Impact of New Teacher Mentorship"