Five Schools from Arizona, Louisiana, and Texas Named NIET Founder's Award Finalists, Receive $10,000
March 3, 2020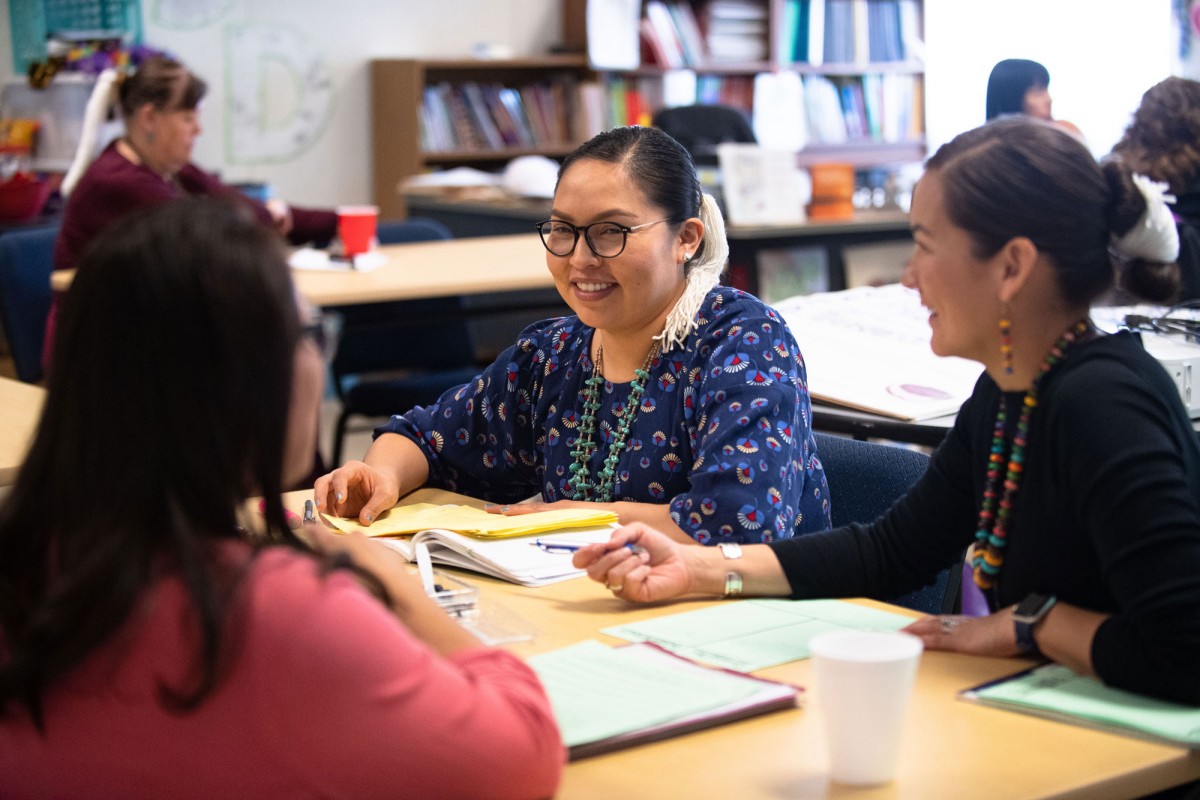 The winning campus will receive $50,000 grand prize
The National Institute for Excellence in Teaching (NIET) announced today that five schools are finalists for NIET's 2020 Founder's Award. Each will receive $10,000, and the winning school – to be announced later in 2020 – will receive $50,000.

The finalists are Chinle Elementary School (Chinle Unified School District, Arizona); Desert View Elementary School (Gadsden Elementary School District #32, Arizona); Duplessis Primary School (Ascension Public Schools, Louisiana); Slaton High School (Slaton Independent School District, Texas); and Slaughter Elementary School (East Feliciana Public Schools, Louisiana).
NIET has a 20-year history of working alongside more than 8,500 schools, districts, states, and universities to ensure that all students have effective educators. NIET's partner schools have shown success by both outperforming similar schools and having greater teacher retention. The Founder's Award was created by NIET Chairman and Founder Lowell Milken to honor one school annually for exceptional implementation of NIET's principles to build educator excellence and advance student success.
"We are proud to work hand in hand with leaders and educators at these five schools, who wake up every day focused on strengthening their practice, collaborating together, and doing what's right for kids," said NIET CEO Dr. Candice McQueen. "Seeing their classrooms is inspiring, and we look forward to watching them build on their progress."
Founder's Award recipients are selected by NIET based on their efforts to make instructional excellence the cornerstone of school improvement; plan for regular professional learning focused on daily needs of teachers and students; create a culture of collaboration and reflection; and leverage teacher leaders and administrators to drive student growth.
What Sets the Finalists Apart

Chinle Elementary School, Arizona: Chinle Elementary is located at the heart of the Navajo Nation. Since the introduction of Arizona's new statewide assessment in 2015, students in grades 3-6 have increased their passing rate for English language arts by 31 percentage points and in Math by 24 percentage points. When NIET first brought training to the district in 2011, Chinle Elementary was identified as a Focus School by Arizona with a letter grade of "D." Today, it is now a "B" and just shy of earning an "A." Across the district, students' growth has propelled the Chinle Unified School District from one of the lowest-performing to the highest-performing reservation district in the state. Learn more about Chinle Elementary School.
Desert View Elementary School, Arizona: Desert View's campus sits along the U.S./Mexico border, with a nearly 100% Hispanic/Latino population and more than a third of its students classified as English language learners. The school, in its ninth year of working with NIET, has exemplified excellence with its fifth straight "A" rating from the state, and continues to increase its scores every year. In 2019, Desert View was named the No. 1 school in Yuma County, and it earned a spot in the top 5% in the state for the percentage of students passing AzMERIT and in the top 10% of growth. From 2015 to 2019, students consistently achieved more than a year's worth of academic growth. Learn more about Desert View Elementary School.
Duplessis Primary School, Louisiana: NIET's foundational support and the unifying motto of "The Patriot Way" have helped Duplessis students – of whom half are minority and 61% are economically disadvantaged – meet and exceed benchmarks. On the most recent Louisiana state exam, students' academic index score increased from 62.5 in third grade English language arts to 89.5 in fourth grade. In social studies, teachers grew those same students from 45.5 in third grade to 64 in fourth grade. Overall, Duplessis achieved a state letter grade of "B" in 2018 and 2019, and during the same time, the school earned an "A" in student progress. In 2019, the school was named a top gains honoree on the Louisiana state report card. Learn more about Duplessis Primary School.
Slaton High School, Texas: Since starting full implementation of the NIET TAP System for Teacher and Student Advancement in 2018-19, rural Slaton High School near Lubbock has seen improved performance on state exams, improved state accountability ratings, and has expanded the number of students leaving Slaton High School with industry-based certifications and college credit hours. Slaton High received a state designation for outstanding academic growth in 2019, which put them in the top 25% across similar campuses. Slaton's district partnership with Texas Tech has allowed Slaton High to grow its own pipeline of leadership and attract new teachers. Learn more about Slaton High School.

Slaughter Elementary School, Louisiana: Through TAP and NIET's support structures centered on educator effectiveness, students at rural Slaughter Elementary School – of whom over 30% are minority and 61% are economically disadvantaged – are making gains. Between 2018 and 2019, third grade students increased their ELA index score from 65.4 to 94.5. Within the same time frame, fourth grade students moved their ELA index up from 65.4 to 88.6. What's more, students with disabilities improved their index by 10.7 points, and economically disadvantaged students increased their index by 5 points. Slaughter Elementary received a "B" state letter grade in 2018 and 2019. During the same time, the school earned an "A" for student progress. Learn more about Slaughter Elementary School.
For graphs and images of each finalist school, visit the NIET newsroom. For interviews, please contact Jana Rausch at jrausch@niet.org or (310) 435-9259. For more information, visit www.niet.org. Follow conference news – including the Founder's Award – on Facebook and Twitter @NIETteach or via #NIET2020.