Four Schools from Arizona, Indiana, and Louisiana Earn $10,000 as NIET Founder's Award Finalists
February 10, 2021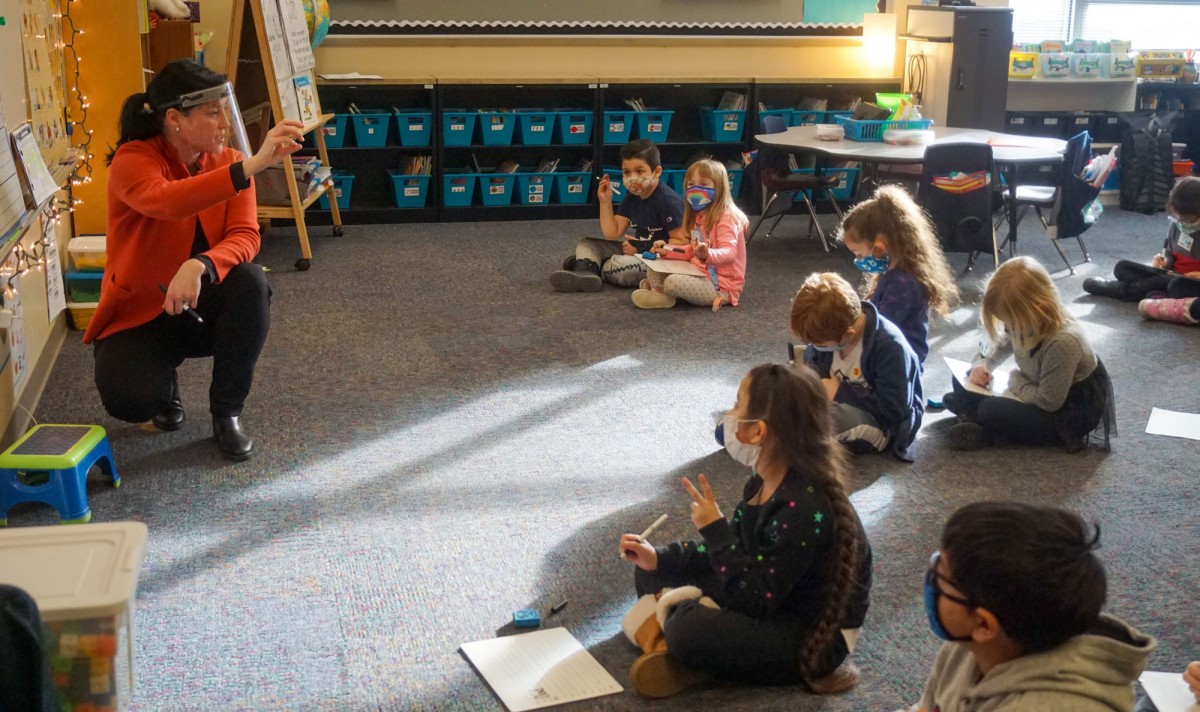 The grand prize winner will receive $50,000
The National Institute for Excellence in Teaching (NIET) announced today that four schools have received $10,000 as finalists for NIET's 2021 Founder's Award. Each school will be honored during a virtual celebration at NIET's National Conference on Thursday, March 4, 2021, at 10 a.m. ET., which will culminate with the announcement of the grand prize winner of $50,000.
The finalists are Douglas MacArthur Elementary School (Perry Township Schools, Indiana), Michael Anderson School (Avondale Elementary School District, Arizona); North DeSoto High School (DeSoto Parish Schools, Louisiana); and Prairie View Elementary School (Goshen Community Schools, Indiana). The schools received the recognition for their efforts to make excellent teaching the cornerstone of student learning.
"Our award finalists demonstrate that when you invest in talented teachers – and provide powerful opportunities for them to lead and learn from others – student achievement follows," said NIET Chairman and Founder Lowell Milken. "I commend Douglas MacArthur, Michael Anderson, North DeSoto High, and Prairie View for prioritizing educator effectiveness and producing sustained results."
For 20 years, NIET has partnered with schools, districts, states, and universities to ensure all students have effective educators. Its work to help develop teacher leaders, collaborate on successful strategies, and provide feedback and support to peers that address teacher and student needs have served more than 9,000 schools and have impacted more than 275,000 teachers and 2.75 million students.
"Our partners prove every day that regardless of educational setting, effective educators and the leadership that supports them matter. In these times, this focus has been more important than ever," said NIET CEO Dr. Candice McQueen. "Each finalist school puts words into actions that exemplify great teaching and realize student learning. They are national models to follow."
NIET's partner schools have shown success by both outperforming similar schools and having greater teacher retention. Schools including the 2021 award finalists have continued to advance during the pandemic through the use of NIET's new tools and resources to accommodate virtual instruction, support from expert leaders and trainers, and access to a large network of educators united around shared learning. The Founder's Award was created by Lowell Milken to honor one school annually for exceptional implementation of NIET's principles to build educator excellence and advance student success.
Founder's Award recipients are selected by NIET based on their efforts to make instructional excellence the cornerstone of school improvement; plan for regular professional learning focused on real-time needs of teachers and students; create a culture of collaboration and reflection; and leverage teacher leaders and administrators to drive student growth.
What Sets the NIET Founder's Award Finalists Apart
Douglas MacArthur Elementary School, Indiana
Douglas MacArthur, located south of Indianapolis, is among 17 schools under Perry Township Schools Superintendent Patrick W. Mapes and serves 880 students. Like its fellow campuses, MacArthur experienced a significant shift in demographics due to an influx of refugees, mostly from Myanmar. Principal Star Hardimon spearheaded the change in how educators engaged students, delivered instruction, and used data to inform decisions. The whole-team approach has resulted in students performing well above state averages in English language arts (56%) and math (65%) compared to the state average of 48% in both subjects, according to 2018-19 data – the most recent available. Similarly, the 2019-20 WIDA 2.0 assessment shows that more than 55% of English learners are exceeding targets to meet the state's long-term goals for language development, compared to the state average of over 30%. Learn more about Douglas MacArthur Elementary School.
Michael Anderson School, Arizona
Michael Anderson, located near the heart of the Phoenix-metro area, serves 840 students of whom 89% are Hispanic, a quarter are English Language Learners, and all are eligible for free or reduced-price lunch. Principal Lori Goslar has seen the growth of teachers and students as they have made the NIET rubric of exemplary best practices their own. Strong collaboration and supportive relationships have led to improvements in student learning year after year. From 2015 to 2019, Michael Anderson has increased its percentage of students reaching proficiency in English language arts from 16% to 34%, and from 20% to 44% in math. From 2017 to 2019, English language learners increased their performance growth by 36 percentage points, compared to the state growth of 20 percentage points during the same time. In addition, the school has seen chronic absenteeism drop from 14% to 8%, and the number of behavioral incidents decrease by 62%. Learn more about Michael Anderson School.
North DeSoto High School, Louisiana
North DeSoto High School (NDHS), located just south of Shreveport, serves 700 students of whom nearly half are economically disadvantaged. The school's vision for growing every student starts with talented teachers. Principal Tammie Phillips and her leadership team build on the school's firm foundation of relevant, reflective professional learning guided by expert teachers, support and follow-up in classrooms, and pre- and post-conferences with individual teachers to maximize strengths and address needs. As a result, the school has earned A state ratings for two straight years, according to the most recent data available from 2017-18 and 2018-19. Students are also being well-prepared for college and career, earning A state ratings in ACT mastery, graduation, and strength of diploma. For 2018-19, NDHS had a graduation rate of 92%, higher than state and national averages of 81% and 85%, respectively. Learn more about North DeSoto High School.
Prairie View Elementary School, Indiana
Prairie View, located in the heart of Elkhart County, serves 460 students representing a majority-minority population, with Hispanic students making up about half of the student population. Of the total percentage of enrolled students, 55% are economically disadvantaged and over a quarter are English learners. Principal Donna Wiktorowski has led the development of a coaching model that builds teachers' skillsets and addresses educational inequities and challenges. Based on the most recent state data from the 2018-19 school year, more than half of Prairie View's students met or exceeded grade-level standards and expectations in English language arts, and 59% did so in math, compared to a state average of 48% in both subjects. In addition, Prairie View's English learners are faring better than the state average in meeting growth targets. Learn more about Prairie View Elementary School.
For images of all finalist schools and more information about NIET, visit the NIET newsroom. For interviews and requests to attend the Founder's Award announcement, please contact Jana Rausch at jrausch@niet.org or (310) 435-9259. Learn more about the conference at www.niet.org. Follow conference news – including the Founder's Award – on Facebook and Twitter @NIETteach or via #NIET2021.
Photo of Prairie View Elementary courtesy of Prairie View Elementary