NIET Awarded $47 Million Federal Grant to Strengthen Educator Effectiveness and Student Learning in Indiana
October 8, 2019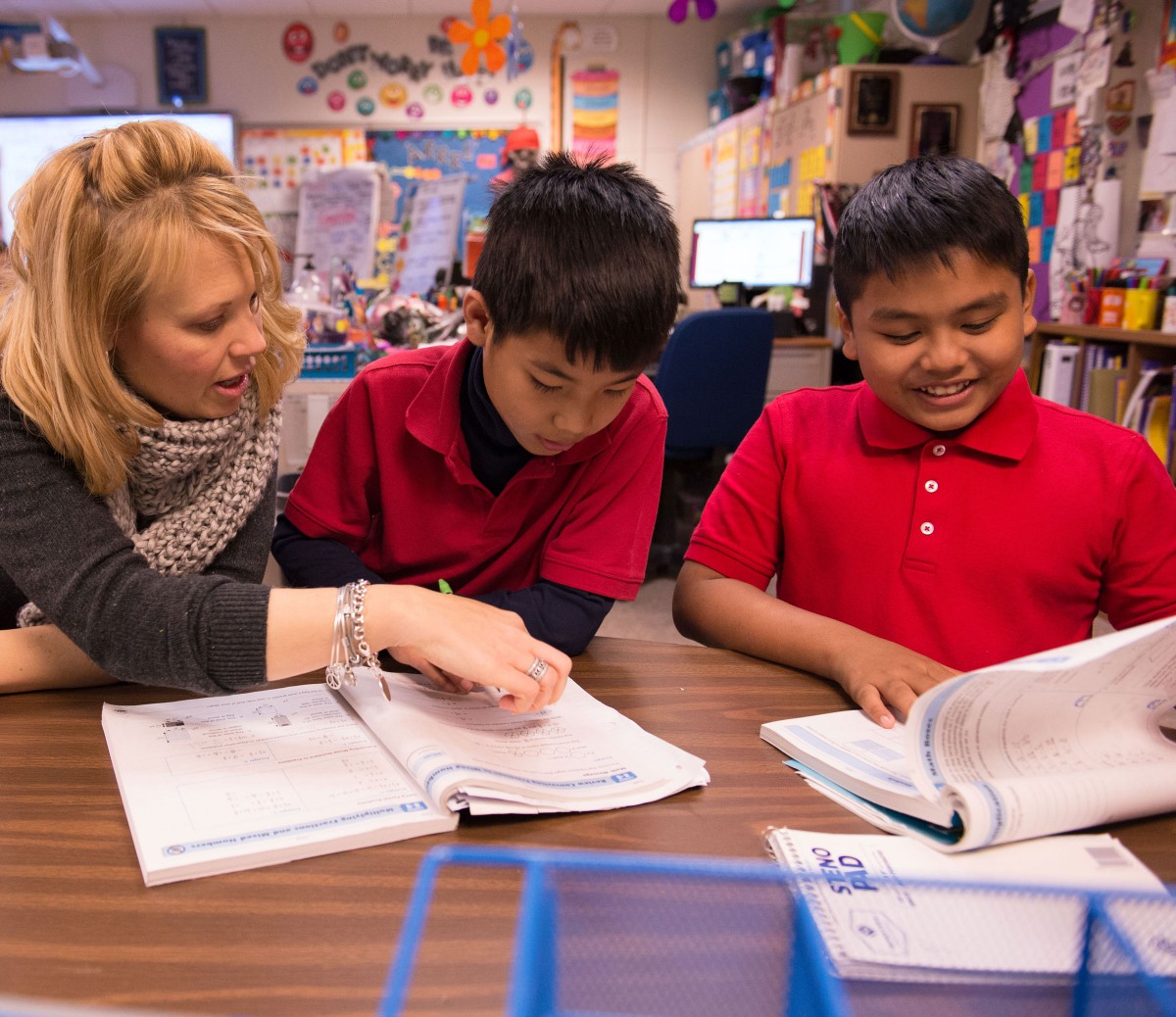 Funds will support educators' career opportunities, professional learning, and strategic compensation in Perry, Goshen, and Brown schools
Watch the surprise announcement.
The National Institute for Excellence in Teaching (NIET) announced today that it has been awarded a five-year, $47 million grant from the federal Teacher and School Leader (TSL) Incentive Program to expand and sustain work to support teachers and improve students' academic success in three Indiana school districts: Perry Township Schools, Goshen Community Schools, and Brown County Schools.
"Our partnerships across Indiana and nationally show that when teachers and principals lead schools with a focus on excellence, reflection, and collaboration, students excel," said NIET CEO Dr. Candice McQueen. "This grant is a win for educators and students and will create a lasting impact in these school communities. We look forward to deepening the work in Perry, Goshen, and Brown and building on their progress to strengthen teaching and learning in every classroom every day."
"Indiana's teachers are the rock upon which we build our schools, and I'm grateful that NIET has chosen to invest in our Hoosier educators," Indiana Governor Eric J. Holcomb said. "I've set a goal for the state to attract and retain teachers, and this grant will help these local districts take their classrooms to the next level."
Specifically, the grant will support the implementation of the TAP System for Teacher and Student Advancement across the districts' combined 32 K-12 schools, serving more than 25,000 students, 1,500 teachers, and 80 school leaders. TAP helps build educators' effectiveness and enables schools to develop teachers as instructional leaders, plan weekly professional learning tailored to individual needs of teachers and students, create a shared vision for improving teacher practice and student achievement, and implement strategic compensation systems. TAP has shown success in schools in Indiana and across the country with closing achievement gaps, increasing student achievement, improving teacher retention, and strengthening teachers' abilities.
Additionally, the grant opportunity will support all students' equitable access to excellent teachers and work to increase the percentage of teachers of color. NIET and the districts are committed to this opportunity as evidenced by the 61 letters of support provided from national, district, school, and community groups who see this opportunity to transform educational opportunities for every student.
"Effective teachers are crucial to student performance and academic success," said Patrick W. Mapes, Perry Township Schools superintendent. "We are thankful for this grant which will give us the opportunity to recruit, retain, and reward highly effective teachers who are responsible for driving positive student outcomes."
NIET has collaborated with Perry Township Schools and Goshen Community Schools since 2010 to help strengthen instructional practices, attract and retain effective teachers in high-need schools, and close achievement gaps. Currently, Perry Township implements the NIET blueprint for TAP across the district and uses NIET's instructional rubric districtwide to support the academic growth of more than 16,700 students. The TSL grant will help Perry Township, recipient of NIET's 2018 District Award of Excellence for Educator Effectiveness, give stipends for the first time to the teachers who effectively help facilitate the TAP framework.
In Goshen Community Schools, the TSL grant will deepen and sustain the TAP System in its nine traditional schools serving 6,600 students. Goshen leaders first sought a partnership with NIET to meet the needs of their distinct student population and strengthen their local economy. Goshen has established teacher leader roles in each school, and this grant will help to expand and increase those opportunities so classroom teachers have the opportunity to grow in their career. Teacher leaders work with administrators to set goals as well as mentor and support teachers through regular professional development, feedback loops, and coaching in classrooms.
"Goshen leaders are excited about this grant to further the excellent teaching in every classroom in order for all Goshen students to be able to achieve their dreams," said Goshen Superintendent Dr. Diane Woodworth.
Brown County Schools is a new NIET partner and started incorporating the School Improvement Solutions model during 2018-19 to establish a "profound focus on advancing student achievement," according to Superintendent Dr. Laura Hammack. The TSL grant will intensify this focus with TAP implementation in Brown County's six schools that include 1,800 students, with more than half eligible for free or reduced-price lunch.
"Brown County Schools is thrilled to be a partner with the National Institute for Excellence in Teaching as a recipient of the Teacher and School Leader Incentive Program grant," Dr. Hammack said. "As a small and rural school district, this grant will add significant value to the experience of teaching and learning. By deploying a system that develops and rewards our talented teachers and leaders, we are better positioned to attract and retain high-quality educators while simultaneously increasing student achievement. We know that the single greatest impact on student achievement is a high-quality educator. These grant resources ensure a systemic process for teacher leadership and professional practice. We are honored to be a partner and look forward to great things to come."
The federal TSL program is designed to promote comprehensive human capital management systems for teachers, principals, and other school leaders. Support of these systems is intended to catalyze improvements in a district's human capital management system to drive increased student outcomes. Federal grant awards are based on projected future appropriations, and TSL grants have the possibility of extending to five years. More information about TSL can be found on the U.S. Department of Education's website.
About Perry Township Schools
Perry Township Schools is the state's second fastest-growing district. That growth has been due in part to an increasing number of refugees—primarily from Burma—who have made the district their home over the last five years. At 31%, Perry Township has the highest percentage of English Language Learners for a district of its size. The district has also had an increase in the percentage of students eligible for free and reduced-price lunch, from 61% in 2013-14 to 71% in 2018-19.
Perry Township has effectively closed the achievement gap with Indiana on the state assessment, and the World-Class Instructional Design and Assessment (WIDA) showed that reading was the largest area of growth in 2018-19. In fact, 39% of English Language Learners scored at the highest proficiency level (Level 5) in reading, the strongest predictor of literacy. As a district, reading proficiency is an average of 4 – up from 3.7.
About Goshen Community Schools
Goshen, which also has a large number of English Language Learners, has kept a focus on closing the achievement gap, earning a B rating in 2017-18. At 2018 NIET Founder's Award Recipient West Goshen Elementary, where 76% of students are eligible for free or reduced-price lunch and 42% are English Language Learners, the school improved from a D to a B, then to an A in 2015-16, and has maintained the A rating for three consecutive years.
About Brown County Schools
Brown County Schools has held a B state rating for three consecutive years but has faced the challenge of recruiting top talent and substantially raising student achievement above state averages – two issues TAP is designed to support. Furthermore, the unification and positive school culture that TAP fosters will support Brown's continuing efforts to serve students and their families in a community affected by the opioid addiction epidemic.
About NIET
For two decades, NIET has partnered with schools, districts, states, and universities to build educator excellence and give all students the opportunity for success. NIET's initiatives, including TAP, teacher and leader development, school improvement, rubric and observation systems, and educator preparation, have impacted more than 250,000 educators and 2.5 million students across the U.S. Learn more at niet.org.