New NIET Partnership to Build Teacher Leadership and Retain Effective Educators in Michigan
July 1, 2020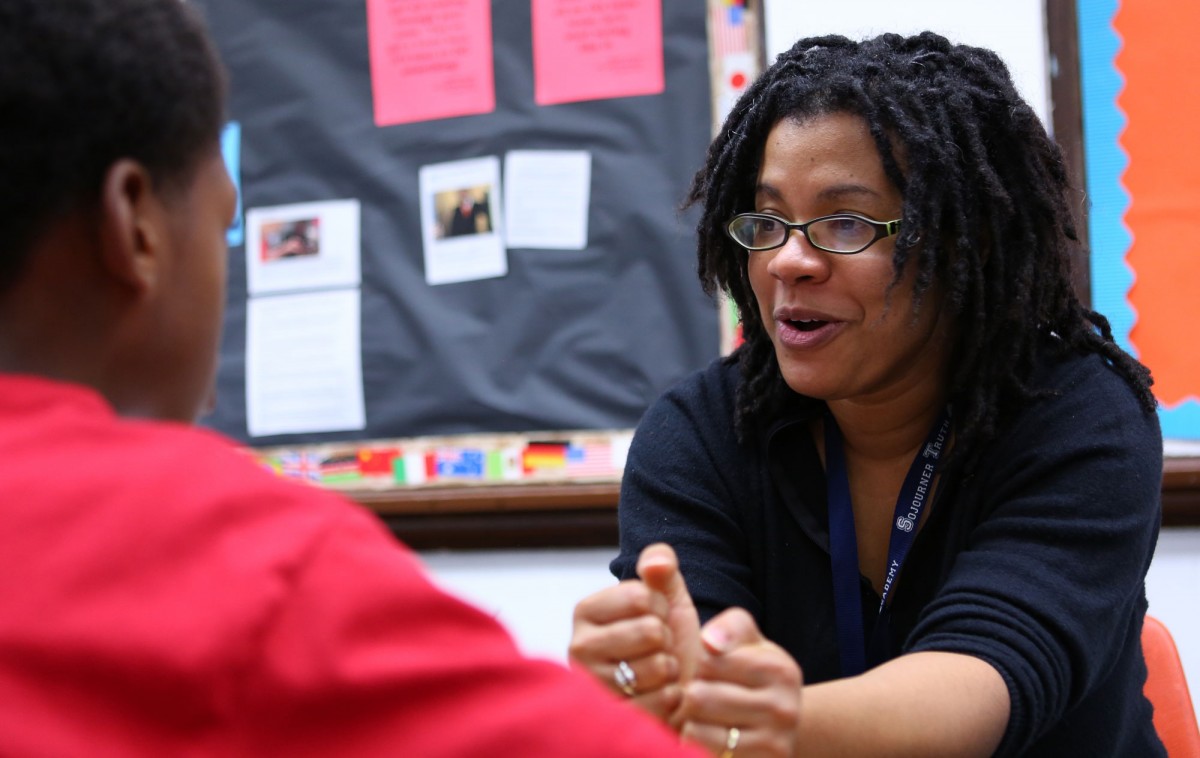 To address Michigan's teacher shortage, the Michigan Department of Education developed a Teacher Leader (TL) program to better recruit and retain effective educators as well as create positive and supportive school cultures for them to thrive. The National Institute for Excellence in Teaching (NIET) has been approved as a public provider due to its demonstrated success helping schools, districts, states, and universities establish structures for teacher leadership and support to improve student achievement.
Why Teacher Leadership Is a Top Priority
Creating opportunities and pathways for teacher leadership can both attract and retain educators. A report by the Public Policy Associates supports the need for teacher leaders to have formal, part-time duties outside of the classroom, including peer-to-peer coaching, and to deliver school-based professional learning that is aligned to the realities teachers face in the classroom. Educators have spoken to their strong interest in moving along a career path that offers a diversity of roles, including those allowing for leadership, and well-equipped teacher leaders have shown that they can directly impact the quality of instruction in a school.
NIET has shown demonstrated success in increasing teacher retention through its model of support, and teacher leaders often create a strong, instructionally focused pipeline for future school administrators and district leaders. NIET partners across the country have illustrated that formal teacher leadership roles can improve instruction, which directly affects student performance.
"Teacher leadership is the linchpin to attracting larger numbers of educators to the profession, building strong support structures for faculty, and giving all students the opportunity for success," said NIET CEO Dr. Candice McQueen. "Research has shown that more than half of teachers want to explore having more roles and responsibilities to affect student outcomes. We are excited about this new partnership in Michigan to help meet the demands for formal teacher leader roles and offer professional learning to support them."
How the Teacher Leader Program Works
The NIET program involves a combination of teacher leadership training and clinical experience. Upon completion, teachers will have obtained the competencies to effectively mentor their peers and drive school growth as well as earn an advanced certification from the Michigan Department of Education. NIET's support is built off its 20-year model of advancing teacher and leader development, which strengthens the abilities of individual educators and increases capacity in a school to support student success.
The process will begin with NIET conducting a strength-based needs assessment aligned to guidelines of the Michigan Department of Education to determine how teacher leadership roles should be best designed to meet teacher and student needs. Then NIET will work with district and school officials to recruit participants.
Training
The teacher leadership training consists of five key modules:
Foundational Leadership: Leadership Structures for Teachers − Identify individual leadership strengths, how leadership structures can grow and support their peers, and how to form productive teams.


Instructional Expertise: Continuous Development of Instructional Practices − Examine the impact of teacher actions on student learning.


Data Driven: Using High-Quality Data to Drive Decision-Making − Empower teachers to develop, evaluate, and strengthen formative assessments that lead to student ownership of learning and schoolwide growth.


Collaborative Partnerships: Facilitating Growth for Others − Promote, design, and facilitate job-embedded professional learning aligned with group and individual needs.


Professional Advocate: Promoting Student Learning and the Profession − Analyze how policies affect classroom practice and student outcomes and learn how to elevate teacher voice to improve the profession at large.
Each training module will offer the opportunity for individual reflections and tasks, as well as group interactions, collaborations, and activities. All activities are designed to provide participants with key knowledge, understanding, and skills across multiple aspects of teacher leadership.
Internship
As a complement to the training, each participant will engage in a one-semester internship, for a minimum of 30 hours, rooted in the modules' practices. The internship will be coordinated by a member of the district's staff in collaboration with the principal of the school in which the teacher leader is employed, and the mentor assigned to the teacher leader.
In addition to a weekly consultation between the teacher leader candidate and mentor, NIET staff will connect regularly with district staff and principals to provide updates on the teacher leadership program, individual intern progress, and receive feedback to guide continued program improvements.
Evaluation
Formative assessments and checkpoints will be embedded within each training module and build on each module's learning to prepare participants for success in their work as teacher leaders. Assignments will relate directly to the expectations of the teacher leader standards. Then evidence gathered through these assessments will be reviewed and discussed by the training facilitator as well as by other training participants.
Upon completion of all five modules, the candidate will be recommended to the Michigan Department of Education for the Teacher Leader designation.
What Sets NIET Apart as a Public Provider
NIET has spent 20 years building the capacity of teachers and school leaders and delivering results. Through its work with over 1,000 school districts across the country, NIET has found that engaging teacher leaders in the development of their colleagues provides highly effective and sustainable professional learning that moves schools forward – including in challenging situations.
NIET's work has informed policies at the national, state and district levels, and has served as the basis for several state teacher leadership programs. These include the Texas Education Agency's Teacher Leadership Grant program, Indiana's Career Ladder programs, Iowa's Teacher Leadership and Compensation (TLC) System, and the Louisiana Mentor Teachers initiative.
For more information about participating in the Michigan partnership, contact NIET Executive-in-Residence Randy Speck at rspeck@niet.org. Learn more about NIET at niet.org.