Teacher and Leader Development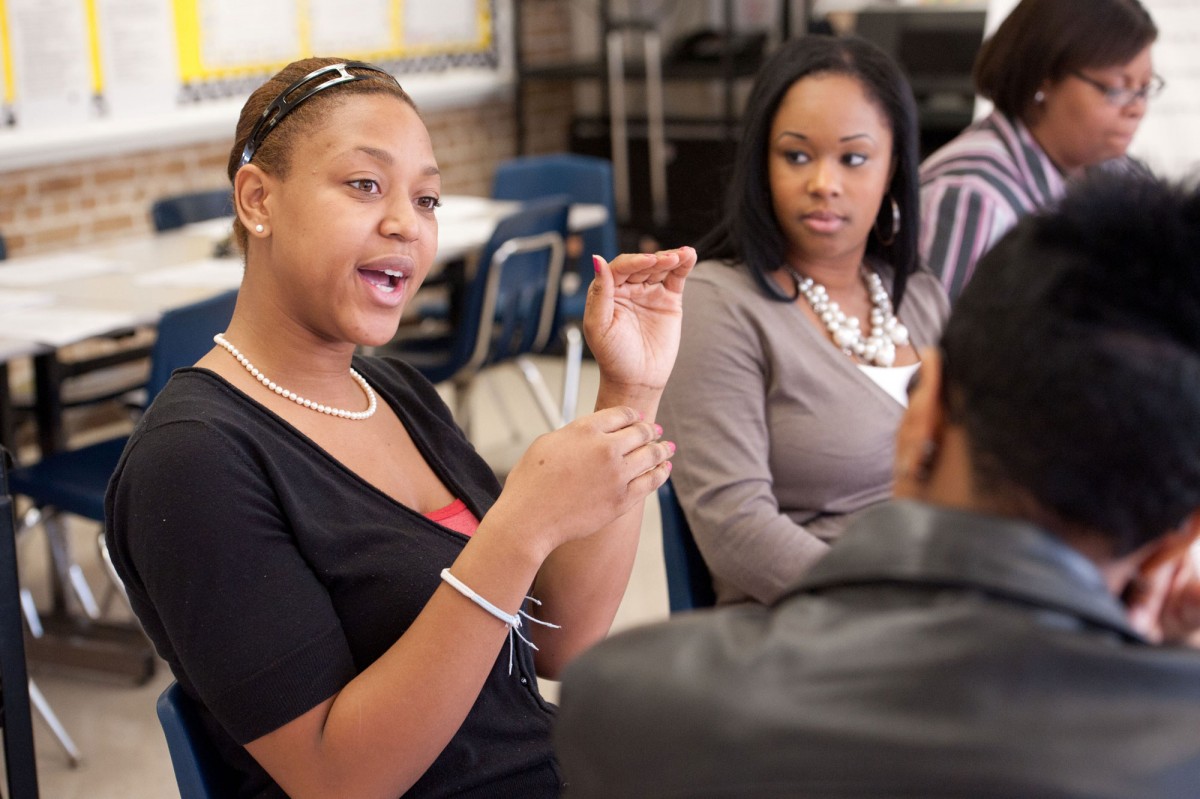 We help identify, equip and empower teacher, school and system leaders to drive instruction and growth.
I now have a systematic way to keep a pulse on what is going on throughout the school while building the capacity of the members of my leadership team and career teachers.

Victoria McMullen-Dunn, Principal, Louisiana
We often hear from educators and aspiring teachers that they want ongoing support to advance their career and opportunities to increase their knowledge and skills as they do.
Our teacher leadership and professional learning systems provide solutions by creating formal structures that give teacher leaders the responsibility, accountability and authority to drive instruction. We also provide coaching and support for other key roles—particularly to empower principals, district and other system administrators to be instructional leaders—recognizing that building deep capacity rooted in rich academic practice is foundational to long-term success.
Career Paths and Advancement
In a typical school setting, teachers have little opportunity for advancement. Unless schools have other leadership positions in place, there are limited options for educators to advance and still have a direct impact on the classroom.
Our teacher leadership system restructures leadership opportunities to help schools identify teachers who could take on additional roles and responsibilities with commensurate pay. These teacher leaders provide support to colleagues and their principal. The mentoring role allows the teacher leaders to maintain close ties to the classroom, with some even teaching a class or two of their own, while having a broader impact on students by driving instruction schoolwide.
NIET's support ensures schools maximize their teacher leaders by:
Coaching principals and other school and district administrators to provide feedback and leadership that can foster development, improvement and growth
Defining specific teacher leadership roles and responsibilities
Identifying key experience and characteristics required for teacher leaders
Training teacher leaders to take on new roles and responsibilities in teacher observation and/or professional learning
Developing accountability systems to measure performance in these roles
Assisting schools in restructuring the school day to allow teacher leaders to maintain their own classrooms while spending significant time co-teaching and providing professional learning
Professional Learning
A challenge with typical professional development is that it is usually delivered off-site and is not customized to an educator's skills or specific student needs. Our system responds to the challenge by offering professional learning that is on-site, job-embedded and relevant.
We provide robust support that incorporates research-based strategies to develop collaborative learning teams and instructional coaching, all with the goals of improving instructional skills and ensuring that these activities ultimately deliver positive results for teachers and their students.
We offer a set of specific protocols to guide development, delivery and follow-up in order to maximize the impact of professional learning on educator effectiveness and student achievement:
In weekly professional learning sessions, teachers identify and analyze student needs, learn instructional strategies, and engage in collaborative planning.
Teacher leaders thoroughly vet teaching strategies in a systematic, action-research process to ensure high-quality strategies and an in-depth understanding of how to teach.
Weekly professional learning groups follow explicit protocols to guide teams through a process. Teacher leaders are given feedback on their ability to design and deliver effective support.
Teachers are individually supported in the classroom by expert teacher leaders to hone strategies until they achieve results.
As the instructional leaders in the building, principals are given the tools to evaluate and coach both teacher leaders and classroom educators. NIET staff works closely with building and district administrators to develop their capacity and create systems for educator support and feedback. This allows leaders to make suggestions and implement adjustments that lead to greater teacher and student success.
NIET also works with leaders and administrators at the state level to develop their capacity and strengthen their ability to be an instructional support for districts and schools.
EE PASS, our online portal, provides hundreds of video modules and resources for teacher leaders, along with school and district administrators, to help them further their own learning and see what good teaching can look like in practice.
Download the NIET Educator Effectiveness Services and Resources Catalog for customizable trainings within this area.
Teacher Leadership Series
The NIET Teacher Leadership Series is an affordable, on-site training solution that empowers teachers to leverage instructional expertise, make data-driven decisions, create collaborative partnerships and advocate for the profession. The five-part series helps schools, districts and states put teacher leadership at the center of efforts to improve instruction and retention, accelerate learning, and keep the best teachers in the classroom where they're needed the most.
Read the Teacher Leadership Series Brief

Read the Teacher Leadership Series Overview
Teacher leaders have to build their own instructional expertise before they can coach others in a way that will make an impact. This training is the springboard to make teacher leaders successful.

Dr. Ann Shaw, Director of Training, NIET
Read the NIET Service Summary: Teacher and Leader Development
.