2019 NIET Annual Report
December 11, 2019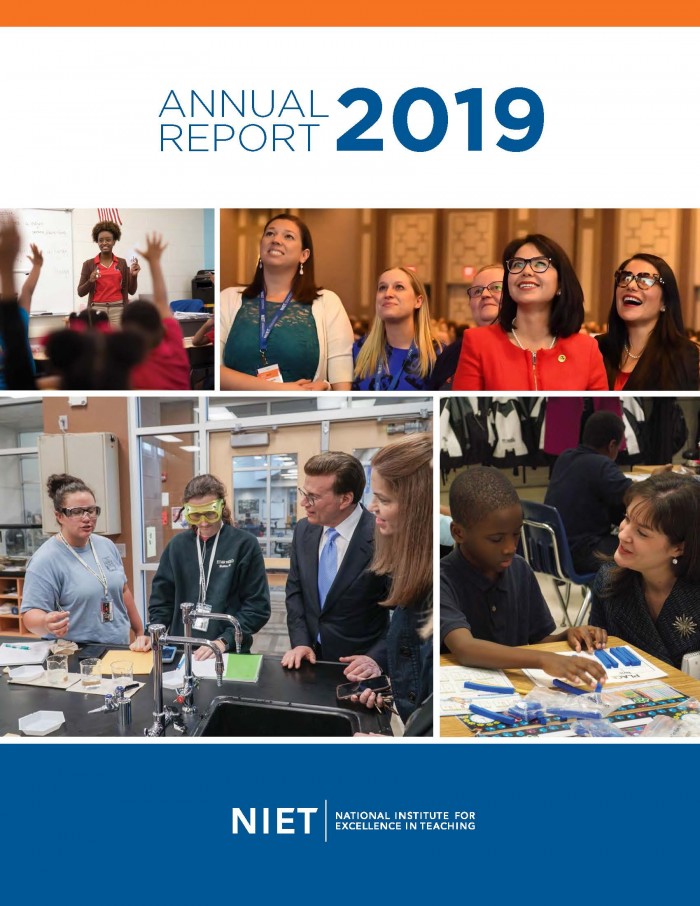 NIET's 2019 Annual Report covers highlights from the 2018-19 school year, including messages from Chairman and Founder Lowell Milken and CEO Dr. Candice McQueen. It captures key successes from NIET's partners, notes new policy and state-level work, and provides an overview of the organization's new strategic plan, NIET Now.
"Over the past year, our trainers and coaches have worked alongside thousands of educators to help them grow as instructors and leaders, and NIET's partner schools are reaching new milestones – whether that's earning an "A" from their state for the first time, making enough growth to move off of school improvement lists, or showing long-term trends that underscore the capacity and excellence of their teaching staff. This summer, we doubled the amount of days we trained educators, developed new partnerships, and won several multiyear grants – and we are only continuing to grow.
"We are working together in new ways to be lead learners and push ourselves to see where we can continue to support our partners in new ways and build the best education systems in America."
- NIET CEO Dr. Candice McQueen
Read Dr. McQueen's blog on the 2019 NIET Annual Report.

Download a printer-friendly version of the 2019 NIET Annual Report.